Madoff: JP Morgan Had to Know What I Was Doing
Four years after arriving at the Federal Correctional Complex in Butner, N.C., Madoff says he wants to help investigators recover the billions of dollars his scheme robbed from innocent investors.
"All I care about is to get the money back," he said.
But it is hard to believe what he says when you consider the enormity of Madoff's crime. The Trustee says investors lost $17 billion in capital they invested with Madoff and even Bernie says the scheme was "...a curse, it was a horror" that came to a calamitous end in December 2008, when Madoff was arrested. Now he's changing his story.
Bernie Madoff: 'The Banks Had To Know What I Was Doing'
In an email penned from jail, one of the biggest Ponzi schemers in history told Fox Business Network that those responsible for recouping his victims' money should keep going after the banks where he had accounts. "The Banks had to know what I was doing regarding the fraud," Madoff wrote in the email.
Bernie Madoff and the Ethics of Giftedness
Much like a professional athlete who turns to "juicing" to rise to the top, Madoff began to apply his financial acumen in a more sinister manner, officially defrauding his investors (which included Holocaust survivor charities) of over $18 billion. But as he has said in interviews, it really was never about the money. Said Madoff, "We made a very nice living. I didn't need the investment-advisory business. I took it on and got myself involved in it, but if you think I woke up one morning and said, 'Well, listen, I need to be able to buy a boat and a plane, and this is what I'm going to do,' that's wrong. " Madoff's subtext? It was never about the money. It was about respect.

Before long, Madoff's too-good-to-be-true returns did result in the recognition he craved. "The chairman of Banco Santander came down to see me, the chairman of Credit Suisse came down, the chairman of UBS came down; I had all of these major banks" he says, "It is a head trip. (Those people) sitting there, telling you, 'You can do this.' It feeds your ego. All of a sudden, these banks which wouldn't give you the time of day, they're willing to give you a billion dollars." Now Madoff was special, but as we have seen, with recognition comes the tenuous task of maintaining the label. Madoff became a prisoner of his own need to be recognized. He said of living this lie, "It was a nightmare for me. I wish they caught me six years ago. Eight years ago." Even in the face of this torment, he was unable to free himself from his need to be thought of highly by his peers, the Wall Street insiders who had never really accepted the Jewish kid from Brooklyn as one of their own.
Madoff Aside, Financial Fraud Defies Policing
Problems persist with policing the financial industry, even after the wave of rules enacted since the collapse of Bernard L. Madoff's giant Ponzi schemein 2008. And the challenge of oversight is not becoming any easier, with the ranks of financial advisers swelling. As new regulations crimp profits, big banks like Wells Fargo are ramping up their brokerage businesses in an effort to make up for lost revenue. Amid the renewed focus, banks have spent millions of dollars to beef up their compliance systems and improve their oversight. Regulators, too, have bolstered their efforts, increasing enforcement and adopting new measures. Every month, the Financial Industry Regulatory Authority, a Wall Street watchdog, penalizes more than 100 brokers for various actions, including unauthorized trading and fraudulent activities, as well as smaller violations. "Theft, Ponzi schemes and other financial scams continue to happen at an alarming rate," said Thomas Ajamie, a plaintiff's lawyer...
JPMorgan ordered to comply with probe of Madoff
The Treasury Department watchdog ordered JPMorgan Chase & Co to work with U.S. regulators seeking documents in connection with a probe into the bank's relationship with convicted Ponzi schemer Bernard Madoff, in a warning letter dated December 21...the Office of the Comptroller of the Currency has been unable to get documents it requested. JPMorgan has argued it does not have to turn over certain kinds of documents to the OCC because it would impinge on its attorney-client privilege rights, according to the letter.
Bernie Madoff Sent A Letter To CNBC On Christmas Eve
Before confessing four years ago this month to the largest investment scam in U.S. history, Madoff was prominent in the financial community. He served as a non-executive chairman of the NASDAQ, and his firm was once among the largest market makers on Wall Street.

"(O)ne would be led to believe that with the recent spate of insider trading prosecution that insider trading is a new development," Madoff writes. "This is false. It has been present in the market forever, but rarely prosecuted. The same can be said of front running of orders."
Madoff's brother jailed over Ponzi fraud
Peter Madoff has been sentenced to ten years in prison for doctoring financial books during his brother's multi-billion dollar Ponzi scheme. Laura Taylor Swain, US District Court judge, sentenced Madoff on Thursday and ordered the forfeiture of $143.1b which she said would seal his "financial ruination". "To take his story at face value, he knew that the business operation was a little bit crooked, and he was content to go along with that," said Swain. Madoff pleaded guilty in June to charges of conspiracy to commit securities fraud while serving as the chief compliance officer and senior managing director at his brother's firm.He previously denied knowledge of the Ponzi scheme until shortly before his brother was arrested, accepted "full responsibility" for his actions at the hearing."I am deeply ashamed of my conduct," said Madoff.
Meet The Madoff Victims That Profited From Their Investment
It could be likened to the legal version of winning the lottery – a group of investors in Bernard Madoff's $65 billion Ponzi scheme, once on the brink of having their $141 million claim denied and instead facing a $28 million clawback lawsuit, now stand to not only recover their initial investment but to legally realize a sizeable profit from the largest Ponzi scheme in history. But such a remarkable outcome- indeed, the first in memory – was not typical, and is due in large part to a clever legal strategy featuring multiple parties, multiple lawsuits, and, of course, deep pockets.
Madoff Scandal Still Haunts Victims
The Ponzi scheme was exposed four years ago Tuesday. The fraud wiped out an estimated $17 billion in principal, destroyed life savings, derailed retirements and, in a few cases, ended lives. So far, Mr. Madoff himself remains the only person connected to the fraud to receive a prison sentence, and he is serving a 150-year term. His brother, Peter Madoff, pleaded guilty in June to falsifying records and conspiracy. He denied knowing about the Ponzi scheme and is set to be sentenced Dec. 20. Two former back-office employees, two computer programmers and former Chief Operating Officer Daniel Bonventre have been accused of various actions that facilitated the fraud. The employees have pleaded not guilty, and a trial is set for October. Meanwhile, Mr. Madoff's victims are deep into sentences of their own.
They labor for unions in a tangled Madoff case
Tragedy as medical student son of Bernie Madoff's accountant shoots himself dead - as his father waits to be sentenced for hiding $65billion fraud
Jeremy Friehling was found dead from a self-inflicted gunshot wound on Thursday


Friends had become concerned after he made erratic comments on Facebook


His father, David Friehling, pleaded guilty in 2009 to helping Bernie Madoff conceal his infamous $65billion Ponzi scheme


Madoff's own son Mark committed suicide in 2010 on the second anniversary of his father's arrest
Fooled by Ponzi (and Madoff)- How Bernard Madoff Made Off with My Money
I suspect that one reason why psychologists and other social scientists have avoided studying gullibility is because it is affected by so many factors, and is so micro-context dependent that it is impossible to predict whether and under what circumstances a person will behave gullibly. A related problem is that the most catastrophic examples of gullibility (such as losing one's life savings in a scam) are low frequency behaviors that may only happen once or twice in one's lifetime. While as a rule I tend to be a skeptic about claims that seem too good to be true, the chance to invest in a Madoff-run fund was one case where a host of factors — situational, cognitive, personality and emotional — came together to cause me to put my critical faculties on the shelf.
Madoff Has Met His Match: Mortgage Fraud Crime of the Century
The recent $1 billion suit against Bank of America/Countrywide alleging that the bank sold defective loans to Fannie Mae and Freddie Mac is but a small piece of this unraveling series of financial flim-flams, which rival most scams because of its pervasive nature and involvement of thousands of financial institutions and intermediaries...mortgage fraud ...combined easy money, greed and securitizing that avarice all over the world. It was based on the myth that home prices don't decline and quick profits could be had by nearly anyone...it may prove to be the mother of all swindles because it nearly took down the world's largest financial system...Starting in 2006, the FBI got wind of some 7,500 suspicious mortgage activities. By 2008, that figure doubled and peaked in the second quarter of last year at nearly 30,000...these reports were the proverbial tip of the iceberg, because they only looked at the problem from one step in the process. Here's what else was going on, although we don't have any hard numbers:
French prosecutor wants to question Madoff, UBS
The prosecutor's written request, which may or may not be accepted by the judge, said UBS had to answer to claims it had "cheated" French clients by sponsoring a Luxembourg-registered fund, Luxalpha, which for years fed assets directly to Madoff without saying so in the prospectus. These claims also form part of an ongoing U.S. lawsuit against UBS pursued by Irving Picard, the trustee seeking money for victims of the Madoff fraud. The bank has always denied the allegations.
Madoff Brother's Sentencing Delayed at Defense Request
Peter Madoff, who pleaded guilty in June in Manhattan federal court, asked for more time to file the 11 years of amended tax returns required under the terms of his agreement with the U.S. Bernard Madoff received a prison sentence of 150 years for perpetrating the biggest investor fraud in U.S. history.
Inside the Mind of Madoff: When Did Scam Really Begin?
It was thought the massive deception began some time after the 1987 crash when Madoff scrambled to improve performance after the downturn. Now it seems it began more than a decade earlier. Federal prosecutors recently indicted five long-time employees of Madoff Investment Securities LLC on 33 counts. The government alleges that the former Madoff workers engaged in a " conspiracy that dates back to at least the early 1970s. In addition, the superseding indictment includes a variety of new charges against the defendants, including bank fraud charges related to both corporate and personal loans, and new tax offenses."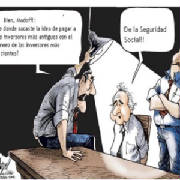 Madoff fraud's last days recounted in NYC document
New NY indictment: Madoff fraud stretched to the 1970s
Prosecutors now say Wall Street swindler Bernard Madoff had plenty of people working with him when he began his conspiracy to rip off investors as far back as the early 1970s. The revelation came in a rewritten indictment that boosted charges against five long-time employees of the investment firm Madoff ran from his Manhattan offices.

A November 2010 indictment had alleged that a conspiracy to defraud Madoff's clients began in 1992, and Madoff insisted at his sentencing that he carried out his scheme alone. But the newly written indictment, revealed Monday, says it began decades earlier with numerous other people in his office involved. The indictment also adds new charges of bank fraud and new tax offenses to the cases against five people who worked with Madoff...

FBI acting assistant director-in-charge Mary Galligan said, "This largest-ever Ponzi scheme was not the work of one person. Each of the defendants in his or her way allegedly played a key role in designing, building or maintaining the house of cards. The habitual doctoring of books and records, the fictitious trades, the phantom accounts, were the core of the charade. As alleged, they were the work of these defendants."
$2.5 billion sent to victims of Madoff's fraud
Checks ranging from $1,784 to $526.9 million were mailed Wednesday to 1,230 former customers of Bernard L. Madoff Investment Securities, according to Irving Picard, the trustee liquidating the firm. The latest payout more than triples the total recovery to $3.63 billion, Picard said Thursday. Thus 1,074 customers with valid claims, or 44 percent of the total number, will be fully repaid, he added. Customers had previously recovered $1.15 billion, including sums committed by the Securities Investor Protection Corp., which helps customers of failed brokerages. The average payout in Wednesday's distribution was $2.02 million.
Watch The Madoff Affair on PBS. See more from FRONTLINE.
The $65 billion fraud that Bernard Madoff perpetrated has been called the largest Ponzi scheme in history. Though the magnitude, scale and details are different, Mr. Ponzi's scheme and Mr. Madoff's fraud each reflect their respective, super-heated financial eras.
Madoff investment scandal broke in December 2008 when former
NASDAQ
chairman Bernard Madoff
admitted that the wealth management arm of his business was an elaborate
Ponzi scheme
... Prosecutors estimated the size of the fraud to be $64.8 billion, based on the amounts in the accounts of Madoff's 4,800 clients as of November 30, 2008...Madoff's personal and business asset freeze has created a chain reaction throughout the world's business and philanthropic community, forcing many organizations to at least temporarily close.
So who was the real Bernie Madoff? And what could have driven him to choreograph a $50 billion Ponzi scheme, to which he is said to have confessed?

An easy answer is that Mr. Madoff was a charlatan of epic proportions, a greedy manipulator so hungry to accumulate wealth that he did not care whom he hurt to get what he wanted.

But some analysts say that a more complex and layered observation of his actions involves linking the world of white-collar finance to the world of serial criminals.

They wonder whether good old Bernie Madoff might have stolen simply for the fun of it, exploiting every relationship in his life for decades while studiously manipulating financial regulators.

_______________________________________
Peter Madoff, Bernie's brother, pleads guilty to fraud...blames his brother Bernard Madoff while pleading guilty to conspiracy and falsifying records. Peter Madoff agreed to serve 10 years in prison for his part in the largest known Ponzi scheme in history.
Ponzi Scheme: The Flaw in the Virtue of Human Trust
INTERVIEW WITH DIANA B. HENRIQUES

Contributing Writer at The New York Times

Why do you think it is important for anti-fraud professionals to understand the psyche of fraudsters like Bernard Madoff?

It is essential that all of us, especially fraud fighters, understand how ordinary a Ponzi schemer's personality can seem. Because we only define them as Ponzi schemers in hindsight, it is very hard for us to put ourselves back into the pre-revelation mindset to appreciate what made these characters so appealing. A scholar whose work I admire described a Ponzi schemer as someone who can perfectly impersonate an honest person. Sometimes anti-fraud professionals underestimate how credible these crooks are since they typically intervene after a crime has already occurred. If we ever hope to move in the direction of early detection, fraud fighters have to learn the early signs of a Ponzi scheme.

Another important lesson about the psyche of a fraudster like Madoff is his capacity for self deception. The first and most important lie that a Ponzi schemer tells is to himself: that he can get away with it. His capacity to tell lies is impacted by his own capacity to lie to himself. As I say in my book, The Wizard of Lies, a Ponzi scheme is the crime of an egotist, not a sadist. Ponzi schemers are a different kind of criminal than other white-collar criminals. They don't recognize they are hurting people until the music has stopped. They don't even think they have victims, but rather they have beneficiaries. You can always tell yourself that the day of reckoning will never come.

Bernie Madoff brought the term "Ponzi scheme" back into the limelight after his confession and now we see a new scheme uncovered almost every day in the news. Why do you think the Ponzi scheme still continues to "work?"

The Ponzi scheme is an ancient form of fraud. It is nothing but a liar with a bank account. Given how simple it is, the rest of it is just window dressing. It's like a Shakespearean play, just with different costumes, mannerisms and stage sets. You can dress it up in real estate investment language, foreign currency language, elaborate derivatives, etc. Because it is so simple, it has been able to constantly reinvent itself.

Another reason it continues to thrive is the inherent capacity of human beings to trust one another. This is a good thing; we do not want to eliminate this from human life, but it is also a liability. To some extent a Ponzi scheme is the flaw in the virtue of human trust. We can never afford to cut off the oxygen Ponzi schemes live on: trust. We would never want a society without trust. With frauds like embezzlement or bribery, you don't need trust. With embezzling, trust is largely replaced with process and the criminal just finds a way around the process. With bribery, trust is never part of the equation, except for the infamous "honor among thieves." But only someone we trust can lure us into a Ponzi scheme -- without trust, the crime is not even possible.


Madoff Victims May Receive Up To $2.4 Billion Payout
Beyond Madoff, Ponzi Schemes Proliferate
It Appears That The Madoff Scam Was Not, Repeat Not, A Ponzi Scheme.
Bernard Madoff employee Irwin Lipkin 'will plead guilty' to fraud charges
Madoff-Hit Money Manager Draws U.S. Fraud Charges
While he claimed crisis-era successes, the SEC said, he actually sustained heavy losses in 2008. Among the major causes was the Mr. Madoff's Ponzi scheme, in which several Battoo-managed hedge funds were heavily invested. Mr. Battoo also borrowed money to increase the size of those investments, the regulator said. After Mr. Madoff's arrest, Mr. Battoo assured investors that the Madoff fraud had only a nominal impact on the portfolios. Mr. Battoo also faced major losses from a failed derivatives program, the SEC said.
Madoff Investors' Suit Claiming SEC Was Negligent in Oversight Dismissed
____________________________
"Well Madoff, where did you get the idea to pay the oldest investors with the money from the newest investors?"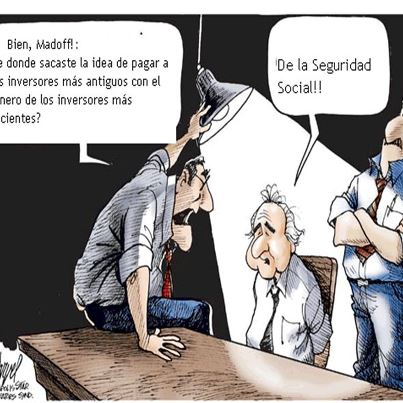 "From Social Security!"