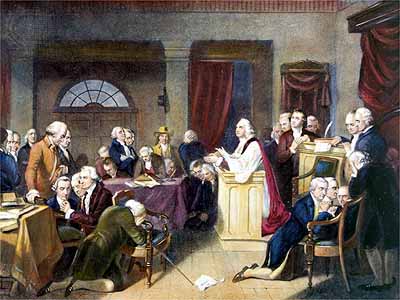 The Religious Composition of the 114th Congress
Chaplains, the official clergymen of Congress, open the daily sessions of the House and Senate with prayer

When Congress first moved to Washington, there were few churches in the new city, so the House and Senate chaplains alternated conducting Sunday services in the House chamber. Chaplains have also performed marriages and funerals for members of Congress.
Current Chaplain Fr. Patrick J. Conroy, 60th Chaplain (born October 31, 1950), a Roman Catholic Priest. His selection was announced by the office of John Boehner, Speaker of the United States House of Representatives, on May 6, 2011, and he was sworn in as the new House Chaplain May 25, 2011, following a unanimous confirmation of his nomination by the House.
Chaplain of the United States House of Representatives

...(From Wikipedia, the free encyclopedia)

The election of William Linn as Chaplain of the House on May 1, 1789, continued the tradition established by the Continental Congresses of each day's proceedings opening with a prayer by a chaplain. The early Chaplains alternated duties with their Senate counterparts on a weekly basis. The two conducted Sunday services for the Washington community in the House chamber every other week.



In addition to opening proceedings with prayer, the Chaplain provides pastoral counseling to the House community, coordinates the scheduling of guest chaplains, and arranges memorial services for the House and its staff. In the past, Chaplains have performed marriage and funeral ceremonies for House members.



Date of Appointment - Chaplain - Denomination



May 1, 1789 - William Linn, Presbyterian

December 10, 1790 - Samuel Blair, Presbyterian

November 5, 1792 - Ashbel Green, Presbyterian

November 27, 1800 - Thomas Lyell, Methodist

December 10, 1801 - William Parkinson, Baptist

November 30, 1804 - James Laurie, Presbyterian

December 4, 1806 - Robert Elliott, Presbyterian

October 30, 1807 - Obadiah Bruen Brown, Baptist

May 27, 1809 - Jesse Lee, Methodist

November 13, 1811 - Nicholas Sneathen, Methodist

November 6, 1812 - Jesse Lee, Methodist

September 23, 1814 - Obadiah Bruen Brown, Baptist

December 7, 1815 - Spencer Houghton Cone, Baptist

December 5, 1816 - Burgiss Allison, Baptist

November 16, 1820 - John Nicholson Campbell, Presbyterian

December 10, 1821 - Jared Sparks, Unitarian

December 5, 1822 - John Brackenridge, Presbyterian

December 8, 1823 - Henry Bidleman Bascom, Methodist

December 9, 1824 - Reuben Post, Presbyterian

December 13, 1830 - Ralph Randolph Gurley, Presbyterian

December 13, 1831 - Reuben Post, Presbyterian

December 12, 1832 - William Hammett, Methodist

December 9, 1833 - Thomas H. Stockton, Methodist

December 10, 1834 - Edward Dunlap Smith, Presbyterian

December 24, 1835 - Thomas H. Stockton, Methodist

December 20, 1836 - Oliver C. Comstock, Baptist

September 12, 1837 - Septimus Tustin, Presbyterian

December 11, 1837 - Levi R. Reese, Methodist

February 4, 1840 - Joshua Bates, Congregationalist

December 15, 1840 - Thomas W. Braxton, Baptist

June 9, 1841 - John W. French, Episcopalian

December 13, 1841 - John Newland Maffitt, Methodist

December 14, 1842 - Frederick T. Tiffany, Episcopalian

December 16, 1843 - Isaac S. Tinsley, Baptist

December 4, 1844 - William Mitchel Daily, Methodist

December 1, 1845 - William Henry Milburn, Methodist

December 7, 1846 - William T.S. Sprole, Presbyterian

December 6, 1847 - Ralph Gurley, Presbyterian

December 1, 1851 - Littleton F. Morgan, Methodist

December 6, 1852 - James Gallagher, Presbyterian

December 5, 1853 - William Henry Milburn, Methodist

March 4, 1855 - (None)

July 4, 1861 - Thomas H. Stockton, Methodist

December 7, 1863 - William Henry Channing, Unitarian

December 4, 1865 - Charles B. Boynton, Congregationalist

March 4, 1869 - John George Butler, Presbyterian

December 6, 1875 - S.L. Townsend, Episcopalian

October 15, 1877 - John Poise, Methodist

December 3, 1877 - W.P. Harrison, Methodist

December 5, 1881 - Frederick Dunglison Power, Disciples of Christ

December 3, 1883 - John Summerfield Lindsay, Episcopalian

December 7, 1885 - William Henry Milburn, Methodist

August 7, 1893 - Samuel W. Haddaway, Methodist

December 4, 1893 - Edward B. Bagby, Christian

December 2, 1895 - Henry N. Couden, Universalist

April 11, 1921 - James Shera Montgomery, Methodist

January 3, 1950 - Bernard Braskamp, Presbyterian

January 10, 1967 - Edward G. Latch, Methodist

January 15, 1979 - James D. Ford, Lutheran

March 23, 2000 - Daniel P. Coughlin, Roman Catholic

May 25, 2011 - Patrick J. Conroy, Roman Catholic

Denomination
Methodist 16
Presbyterian 14
Baptist 7
Episcopal 4
Lutheran 2
Unitarian 2
Congregationalist 2
Disciples of Christ 2
Roman Catholic 2
Universalist 1
Total 62

Office of the Chaplain of the U.S. House of Representatives Website
Chaplain of the United States Senate
From Wikipedia, the free encyclopedia
List of Senate chaplains
| Chaplain | Denomination | Appointed |
| --- | --- | --- |
| Samuel Provoost | Episcopalian | April 25, 1789 |
| William White | Episcopalian | December 9, 1790 |
| Thomas John Claggett | Episcopalian | November 27, 1800 |
| Edward Gantt | Episcopalian | December 9, 1801 |
| A. T. McCormick | Episcopalian | November 7, 1804 |
| Edward Gantt | Episcopalian | December 4, 1805 |
| John Johnson Sayrs | Episcopalian | December 3, 1806 |
| A. T. McCormick | Episcopalian | November 10, 1807 |
| Robert Elliott | Presbyterian | November 10, 1808 |
| James Jones Wilmer | Episcopalian | May 24, 1809 |
| Obadiah Bruen Brown | Baptist | December 5, 1809 |
| Walter Dulaney Addison | Episcopalian | December 12, 1810 |
| John Brackenridge, D.D. | Presbyterian | November 13, 1811 |
| Jesse Lee | Methodist | September 27, 1814 |
| John Glendy | Presbyterian | December 8, 1815 |
| Sereno Edwards Dwight | Congregationalist | December 16, 1816 |
| William Dickinson Hawley | Episcopalian | December 9, 1817 |
| John Clark | Presbyterian | November 19, 1818 |
| Reuben Post | Presbyterian | December 9, 1819 |
| William Ryland | Methodist | November 17, 1820 |
| Charles Pettit McIlvaine | Episcopalian | December 9, 1822 |
| William Staughton | Baptist | December 10, 1823 |
| Charles Pettit McIlvaine | Episcopalian | December 14, 1824 |
| William Staughton | Baptist | December 12, 1825 |
| William Ryland | Methodist | December 8, 1826 |
| Henry Van Dyke Johns | Episcopalian | December 14, 1829 |
| John Price Durbin | Methodist | December 19, 1831 |
| Charles Constantine Pise | Roman Catholic | December 11, 1832 |
| Frederick Winslow Hatch | Episcopalian | December 10, 1833 |
| Edward Young Higbee | Episcopalian | December 23, 1835 |
| John Reinhard Goodman | Episcopalian | December 28, 1836 |
| Henry Slicer | Methodist | September 11, 1837 |
| George Grimston Cookman | Methodist | December 31, 1839 |
| Septimus Tustin | Presbyterian | June 12, 1841 |
| Henry Slicer | Methodist | December 16, 1846 |
| Clement Moore Butler | Episcopalian | January 9, 1850 |
| Henry Slicer | Methodist | December 7, 1853 |
| Henry Clay Dean | Methodist | December 4, 1855 |
| Stephen P. Hill | Baptist | December 8, 1856 |
| Phineas Densmore Gurley | Presbyterian | December 15, 1859 |
| Byron Sunderland | Presbyterian | July 10, 1861 |
| Thomas Bowman | Methodist | May 11, 1864 |
| Edgar Harkness Gray | Baptist | March 9, 1865 |
| John Philip Newman | Methodist | March 8, 1869 |
| Byron Sunderland | Presbyterian | December 8, 1873 |
| Joseph J. Bullock | Presbyterian | March 24, 1879 |
| Elias DeWitt Huntley | Methodist | December 18, 1883 |
| John George Butler | Lutheran | March 15, 1886 |
| William Henry Milburn | Methodist | April 6, 1893 |
| F.J. Prettyman | Methodist | November 23, 1903 |
| Edward Everett Hale | Unitarian | December 14, 1903 |
| Ulysses Grant Baker Pierce | Unitarian | June 18, 1909 |
| F.J. Prettyman | Methodist | March 13, 1913 |
| Joseph Johnston Muir | Baptist | January 21, 1921 |
| ZeBarney Thorne Phillips | Episcopalian | December 5, 1927 |
| Frederick Brown Harris | Methodist | October 10, 1942 |
| Peter Marshall | Presbyterian | January 4, 1947 |
| Frederick Brown Harris | Methodist | February 3, 1949 |
| Edward L.R. Elson | Presbyterian | January 9, 1969 |
| Richard C. Halverson | Presbyterian | February 2, 1981 |
| Lloyd John Ogilvie | Presbyterian | March 11, 1995 |
| Barry C. Black | Seventh-day Adventist | July 7, 2003 |
| | |
| --- | --- |
| Episcopalian | 19 |
| Methodist | 17 |
| Presbyterian | 14 |
| Baptist | 6 |
| Unitarian | 2 |
| Congregationalist | 1 |
| Lutheran | 1 |
| Roman Catholic | 1 |
| Seventh-day Adventist | 1 |
| Total | 62 |
United States Senate Chaplain's Office