God has blessed us with the perfect retirement home in the middle of his beautiful world. We want you to see it virtually on this site, but we also await your visit to enjoy it with us in person.
Dios nos ha bendecido con la casa de retiro perfecto en el umbligo de su mundo lindo. Deseamos que tu la ves virtualmente en este portal, pero tambien esperamos tu visita para gozar de ella con nosotros en persona.
En primer lugar la aperatura de la oportunidad de volver a Quito despues de haber salido desde hace 25 años fue un regalo de Dios. Luego encontramos esta Quinta con la casa de nuestros sueños y a nuestra sorpresa, Dios abrio el camino de comprarla. Habiamos soñado de volver a Quito, pero sobre 25 largos años casi hiabiamos perdimos la vista del sueño. Q3 esta ubicada en el mismo valle hermoso de Tumbaco a 600 metros mas abajo de Quito donde viviamos en 1977-79.
In the first place, the opening of the opportunity to return to Quito 25 years after having left was a gift from God. Then we found this Quinta with the home of our dreams and to our surprise, God opened the door to buy it. We had dreamed of returning to Quito, but over 25 long years we almost lost sight of that dream. Q3 is located in the same beautiful Tumbaco Valley, 1,800 feet below Quito where we lived during 1977-79.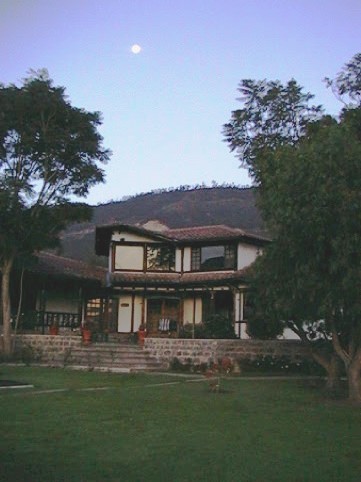 The back yard - El jardin posterior