The daughter of a very prominent Baptist minister, Sue Latimer was well prepared to be a pastor's wife. Her father, Dr. Leon M. Latimer pastored churches in Sylacauga, Alabama, where she was born, Griffin, Georgia, where she attended public school, and Austin, Texas, where she graduated from high school.
Having early dedicated her life to Christian service, Sue attended Baylor University for Women in Belmont, Texas but after her father moved to pastor the First Baptist Church of Greenville, South Carolina, she transferred to Furman University where she graduated. Seeking er own Christian vocation, Sue then enrolled in Southern Baptist Theological Seminary in Louisville, Kentucky. She worked for the South Carolina State Sunday Scool Board until she became a pastor's wife.
Sue's father performed the wedding ceremony to Reverend James P. Wesberry on June 1, 1943 in Greenville and she became not only a pastor's wife, but also a mother as she took up the new task of raining her husband's only child.
When Jim became pastor of Atlanta's Morningside Baptist Church in 1944, Sue quickly found herself engaged in every facet of church work. She presided over the church women, taught Sunday School, sang in the choir, and worked in the Training Union. The Intermediate Training Union was named in her honor. She was a devoted member of Morningside Baptist Church from 1944 until her death.
Sue Wesberry served for many years as a director of the Southern Baptist Home Mission Board and as a member of numerous denominational committes. She was Co-Founder and first president of the Southern Baptist Ministers Wives Conference.
She was president of the South Carolina Club and a member of Delta Kappa Gamma honorary education society, the Atlanta Lions Club Auxiliary, Daughters of the American Revolution and the Eastern Star.
During the latter part of her life she worked in the Atlanta Public School System for a number of years as a librarian and a coordinator in the Reading Program.
Sue Latimer Wesberry's favorite Bible verse stands significantly as the motto of her Christian life:
I am crucified with Christ: nevertheless I live; yet not I, but Christ liveth in me: and the life which I now live in the flesh I live by the faith of the Son of God, who loved me, and gave himself for me." (Galatians 2:20)
Acting Chaplain of U.S. House of Representatives
Sue and Jim on the Capitol steps in Washington in 1949
This portrait of Sue Latimer Wesberry hangs in Morningside Baptist Church
THE SOUTHERN BAPTIST CONVENTION MINISTER'S WIVES CONFERENCE
The SBC Ministers' Wives Conference dates back to 1955, when two Georgia pastors' wives, Ruth Matthews and Sue Wesberry, realized the importance of their state's ministers' wives conference and concluded that the national convention would benefit from such an organization. They made plans for a tea at the Muhlback Hotel in Kansas City during the 1956 convention and were overwhelmed by the response.
In her 1967 account of the beginning of the Ministers' Wives Conference, Southern Baptist historian Loulie Latimer Owens said the platters of homemade cookies quickly ran out and the hotel was asked to intervene with its own supply. The ladies thought the day had been saved until a waiter approached with a bill.
"For the punch and extra cookies, the self-appointed committee owed $96.00. Who had $96.00? Did everybody together have $96.00?" Owens wrote. After some quick discussion, the tab was added to the room of C. DeWitt Matthews and later covered by the SBC Pastors' Conference.
The convention met in Chicago the following year, and so did the Ministers' Wives Conference. Wesberry's husband, James, was elected president of the Pastors' Conference, and Sue Wesberry presided over the tea in the grand ballroom of the Conrad Hilton Hotel. A full slate of officers was elected for 1958, Owens said.
Jim and Sue Wesberry, 1943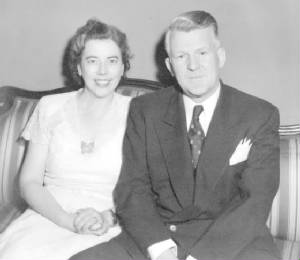 A PERSONAL NOTE BY HER SON
Mary Sue Latimer Wesberry was the Mother who raised me, I often have bragged that I was blessed with three mothers as my father was widowed twice and remarried, but the Mother who dedicated much to me that I remember most was the one I called "Mother Sue" who married my father when I was eight. After I had children she became "Nana." She saw that I was educated, helped my with lessons, took me to the library every two weeks to get books and encouraged me to read to such an extent that now I much prefer reading books to TV, videos, movies, music, etc. She sacrificed much of her time with my father to take care of me.
When my school tested my eyes and said I needed glasses, she took me to the ophthalmologist and paid for them with her own money. I will never forget riding the 16 Noble Trackless Trolley back home with her being able to see clearly in the distance through the windows for the first time.
When I was 14 my father arranged for me to be a Page in the US House of Representatives for what he was told would be 3 months until Congress adjourned. He rented an apartment for us a block from the Capitol and she lived there taking care of me. He drove or took the train up when he could which was rarely. I know she was miserable being separated from him. Congress did not adjourn for 9 months but she never complained and was always cheerful. She took me to the library there too and encouraged me to read biographies of famous US heroes.
When I was 16 and back in Atlanta I bought a brand new stick shift Chevrolet Convertible with the money I had earned but did not know how to drive it. My father was much too busy at the time to teach me. To my absolute surprise Mother Sue asked if I'd like to drive with her. There were no learners licences back then but a teen could drive with an adult driver. I guess the greatest favor anyone can do for a 16 year old is teach him how to drive and especially if he has a new car. That she did, and she spent a good many hours at my side with me driving all over North Georgia. For years I sat by her side in the third row of our church on Sundays while my father preached and she'd slip me a small piece of chewing gum. She had no children of her own so she bestowed all her love on my father and on me. What wonderful memories! - James P. Wesberry, Jr.