April 16, 1906 - December 25, 1992

James Pickett Wesberry, growing up in Columbia, South Carolina, dreamed of becoming a United States Senator. Instead, while in his senior year at high school, he answered the call of God to preach the Gospel. He was ordained in 1925 by his home church, the Park Street Baptist Church of Columbia, South Carolina. Jim graduated from Mercer University with a Master of Arts degree in 1930. He completed his ministerial training at Andover-Newton Theological seminary in Boston, Massachusetts, graduating with a Master of Theology degree. Further study led him to take post-graduate work at: Harvard, Union, Yale, Southern Baptist Theological Seminary, Princeton Theological Seminary and, finally at an advanced age, Cambridge in England.

While at Mercer and Andover-Newton he served a number of student pastorates. Although his professional career included pastorates at Kingstree and Bamberg, South Carolina, the height of James Wesberry's career came during the 31-year pastorate of the Morningside Baptist Church in Atlanta, Georgia. He led this church to relocate from a tiny wooden building and build a beautiful sanctuary on Piedmont Road in Atlanta, often described as Atlanta's most beautiful church.

During his pastorate at Morningside, he served as president of the Georgia Baptist Convention and of the Southern Baptist Pastors' Conference. He was a long-time member of the Executive Committee of the Southern Baptist Convention. He also served as president of the Atlanta Christian Council and moderator of the Atlanta Baptist Association. Jim served for 20 years as recording secretary of the Georgia Baptist Convention, and on his retirement from that office in 1991, he was elected recording secretrary emeritus.

Besides serving as Acting Chaplain of the United States House of Representatives in Washington in 1949, Georgia's Governor Herman E. Talmadge appointed him chairman of the newly created Geogia Literature Commission, where he served for 21 years.

During his long, colorful and unique career, Wesberry received many honors. He served as a newspaper columnist, wrote for many religious and secular publications and authored ten books.

Upon his retirement from the active pastorate in 1975, he was named pastor emeritus of Morningside Baptist Church. He was elected Executive Director of the Lord's Day Alliance of the United States and Editor of Sunday magazine in 1975. He served in those positions until 1992, and upon retirement was elected as emeritus in both of these offices.

Widowed twice, he was first married to Ruby Lee Perry, his childhood sweetheart from Columbia, S.C., then to Mary Sue Latimer, the daughter of Dr. Leon M. Latimer, long time pastor of the First Baptist Church of Grenville, S.C., and finally to Margaret Spratlin of Atlanta. His only son, James Pickett Wesberry, Jr., former Georgia State Senator, now lives in Quito, Ecuador. He has seven grandchildren and seven great grandchildren.

Dr. Wesberry loved his Lord Jesus Christ and loved to preach about Him. His many friends remember his love for them and his loyalty and thoughtfulness at all times. He was the epitome of a "Southern Gentleman."

The William McLeod Wesberry Family
Back row: James, Margaret, Reggie, Tim, Front: Father William, Daughter Lillian, Mother Lillian

THE LOVE OF A FRIEND

"Like music heard on still waters,

Like pines when the wind passeth by,

Like pearls in the deep of the ocean,

Like stars which enamel the sky,

Like June and the odor of roses,

Like dew and the freshness of morn,

Like sunshine which kisses the clover,

Like tassels of silk on the corn,

Like notes of thrush in the woodland,

Like brooks where violets grow,

Like rainbows that arch the blue heaven,

Like clouds when the sun dippeth low,

Like dreams of Arcadean pleasure,

Like colors which gracefully blend,

Like everything breathing of pureness,

Like these is the love of a friend."

Author Unknown

James P. Wesberry loved inspirational poetry and used it in all his sermons. This was his favorite, carried always in his wallet, printed often in church bulletins and brochures...and lived daily throughout his life.
A Difficult and Controversial Task of Public Service
The Georgia Literature Commission - 1953

The Georgia Literature Commission was established by the state legislature in February 1953, with the purpose of removing objectionable items from newstands. The Commission had no enforcement power but could order distributors to remove materials and recomend prosecution if they refused. The commission initially declined to disclose the titles of material they were investigating, but ultimately did release them. The bill exempted libraries and institutions from the commission's scrutiny. Governor Herman Talmadge (Eugene's son), swore in the 3 person commission, with Reverend James Wesberry of Atlanta's Morningside Baptist Church as chairman. Reverend Wesberry stated "I don't discrimiate between nude women, whether or not they are art. It's all lustful to me" (Atlanta Constitution, February 27, 1953).
| | |
| --- | --- |
| | Items submitted to the commission included magazines with women in revealing poses, pocket calendars, and paperbacks which included Fires of Spring by James Michener. In 1954 J.D Salinger's controversial novel Catcher in the Rye was stated to be "profane and vulgar" by a Macon newstand owner, and Stetson Kennedy's Southern Exposure, which attacked the Ku Klux Klan and racial prejudice, was attacked as "too filthy even to look at" (Atlanta Journal, August 8 & August 18, 1953). |
The Commission and Georgia Assistant Attorney General Lamar Sizemore created guidelines to assess materials: the publication must be considered as a whole, the central theme must be pornographic to be considered for removal, the intent of the writer must be considered, the channels of distribution, types of readers, and the effect on the reader must be evaluated.

In 1959, the Georgia Board of Education voted to require a stamp of approval from its literary committee on all library books, reportedly because of the threat of pro-integration literature. (Atlanta Journal, September 6, 1961).

The state literature commission also investigated The Naked and the Dead, by Norman Mailer.

http://www.library.gatech.edu/about_us/news/banned/historical_essay-page2.htm
GEORGIA LITERATURE COMMISSION

GEORGIA launched its first major campaign against obscene literature in 1953, when the General Assembly unanimously voted to establish the Georgia Literature Commission. The onset of the paperback book revolution in the years after World War II, the rising popularity of adult magazines, and the introduction of Playboy magazine in the United States led the legislature to create the commission, consisting of three members who would meet monthly to investigate literature that they suspected to be "detrimental to the morals of the citizens of Georgia." If the commission determined something to be obscene, it had the power to inhibit distribution by notifying the distributor and then, thirty days later, recommending prosecution by the proper prosecuting attorney. Governor Herman Talmadge appointed Atlanta minister James P. Wesberry, Royston newspaper publisher Hubert L. Dyar, and Greensboro theater owner William R. Boswell to serve four-year terms.

Most of the commission's early work was through a program of mutual cooperation with publishers, distributors, and retailers, although the commission became increasingly ineffective in its dealing with magazines, as it could prohibit distribution of a particular issue it found to be obscene but not any future issue. In late 1956 four out-of-state publishing companies sued the commission in federal district court on the grounds that the statute establishing the commission was unconstitutional. A special three-judge appellate panel ruled that the statute as correctly construed did not raise a constitutional question. Because the court concluded that the commission did not have any powers of censorship—the commission could only recommend to distributors that a publication not be sold or to prosecuting attorneys that a distributor be prosecuted—the suit was subsequently dismissed.

Through 1967 the commission was required to take legal action in only six instances. The beginning of the end of the commission's efforts came on August 19, 1966, when the commission sought and received a declaratory judgment in Muscogee County Superior Court that Alan Marshall's Sin Whisper (1965) was obscene. The Georgia Supreme Court also sided with the commission, concluding that the book was "filthy and disgusting." The unanimous opinion continued, "Further description is not necessary, and we do not wish to sully the pages of the reported opinions of this court with it." The U.S. Supreme Court, however, reversed the judgment without comment in a memorandum decision without any explanation of why the book was not obscene, without any comment about the standards applied by Georgia courts determining it to be obscene, and without any ruling on the constitutionality of the commission itself. Other books chosen for review by the commission were Erskine Caldwell's God's Little Acre (1933), J. D. Salinger's Catcher in the Rye (1951), Norman Mailer's The Naked and the Dead (1948), George H. Smith's Strip Artist (1964), and John Dexter's Lust Avenger (1965).

The commission ceased operations sometime after 1973, a victim of Governor Jimmy Carter's zero-based budgeting system, which required state agencies to justify their existence each fiscal year. Coupled with his and successive governors' failure to appoint replacements for the two commission members who died that year, the agency was thereafter unable to conduct business.

Suggested Reading

Gregory C. Lisby, "'Trying to Define What May Be Indefinable': The Georgia Literature Commission, 1953-1973," Georgia Historical Quarterly 84 (spring 2000): 72-97.

Gregory C. Lisby, Georgia State University


Published 11/20/2002

http://www.georgiaencyclopedia.org/nge/Article.jsp?path=/Literature/MiscellaneousEssays&id=h-755

_______________________________________________________
Monday, Mar. 09, 1953
"All Lustful"
The U.S.'s first state board of censorship on literature was set up in Georgia last week. Its purpose: to keep "obscene" literature out of the state. When the Georgia legislature passed the bill to create the board last month, Atlanta Constitution Editor Ralph McGill warned that the definition of obscenity is "so vague" that the law "lends itself to distortion and abuses." The bill's definition of obscenity: "Literature offensive to chastity or modesty." Last week, when the three-man board took office, it became plain how right Editor McGill had been. Board Chairman James Wesberry, a Baptist minister, was asked whether works of art showing nude women would be banned by the board. Replied Censor Wesberry: "I don't discriminate between nude women whether they are art or not. It's all lustful to me." Editor Hubert Dyar of the weekly Royston Record (circ. 1,256), another censor, heartily agreed, and so did the third censor, William Boswell, a Greensboro theater owner.

Although newspapers are exempted from the law, editors protested that it was an infringement of freedom of the press. The law, said Odom Fanning, president of the Atlanta chapter of the journalism fraternity, Sigma Delta Chi, "could be used to bring about 'thought control,' the odious practice [of] all dictatorships."

Find this article at:
America's First Obscene Books Commission The Georgia Literature Commission, 1953-1973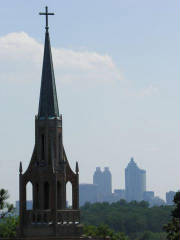 James Pickett Wesberry